Facebook Page Themes WordPress plugin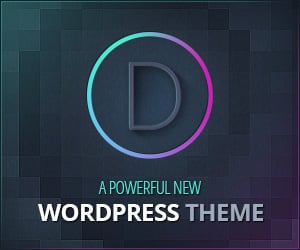 Facebook Page Themes is a premium WordPress plugin that connects Facebook Fan Pages with WordPress Administration Panel. A lot of people use Custom designed fan pages these days and since WordPress is the most popular platform CMS out there, this is a very convenient way of managing your Facebook Fan Page.
Plugin currently has five predesigned Templates that you can customize through the admin area. Themes follow a basic structure which includes home page with slider, portfolio, contact form and blog section which picks your latest blog posts from WordPress and displays them on your Facebook Page. This is the feature that people like the most since it will keep your Fan Page updated with your latest news / posts.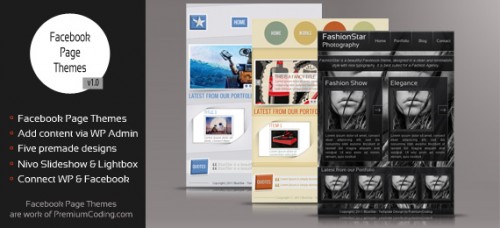 Plugin uses widely used Nivo slideshow as an image rotator on front pages and lightbox for image presentations in Portfolio section of the site.
Every part of the Theme can be managed from WordPress Dashboard. You first select  the Theme you wish to use and then start editing the content.
First tag in administration is called Slider and is used to add, delete and edit images and text for your slideshow on front page (used in BlueStar, GrungeStar BlackStar and RedStar Themes). Images can be added with standard WordPress upload form. Add the title and content text and you are ready to go.
Main settings allow you to add label names of the main menu, add logo and edit text of your footer. Home page settings tab contains all the settings for portfolio items. You can add title, upload an image and enter your content text. Quotes from your customers and fans can be an important part of your branding and you can add them on your front page from the same administration panel.
Probably the most intriguing part of the template is the blog page. It will pull the content of your WordPress blog and display it on your Facebook Fan Page. This means you don't have to worry about republishing content on your Facebook page since it will automatically update. You can set how many posts to display and whether to display title, date and images. If your post titles are long you can use the short title function to shorten them.
Contact form is built in every theme and is customizable. You can change text of all labels (name, email, message and send button). You can also add the title and some description text for your users and visitors.
After you have successfully managed the theme you can now easily add it to Facebook Page. Simply use the appropriate link that is provided at the top of the plugin and setup your Facebook Application with it.
PremiumCoding plans to include new Themes in the future (about five a year) and add more functionalities (based on customers demands and wishes).
You can read more about this premium WordPress plugin and check all the included designs and screenshots of administration panel on home page of WordPress Facebook Page Themes Plugin.